Creating a Geometric Feature Wall
We've made it to week 3 of the One Room Challenge which means we've officially hit the half way mark. If you missed the previous two weeks, you can go get caught up on the before of the space and the design inspiration for our "Modern Marvel" Boy's Bedroom. This week we're focusing on the geometric feature wall treatment we'll be creating behind Kash's bed.
Before we get into our progress thus far, you should know that week 3 is usually the week that makes or breaks us. It's the week where we take a look back at our usually over ambitious to-do list or assess whatever setbacks have already hindered our progress and quickly realize that we'll probably need to make a few adjustments to the plan in order for us to get the room completed on time. Somehow though, this time around we haven't really had to do that (knock on wood). Dare I say we're on track?? I guess only time will tell.
The last time you saw the space it looked much like this.
It's safe to say a fair bit has changed in just a few short weeks.
For starters, the carpet is gone. If you follow us on Instagram, you might have seen a few behind the scenes snaps of our hardwood install.
We installed the same 4.75″ solid maple hardwood that we used in our bedroom, and its amazing how that one change has already made such a difference. The wood adds a huge amount of warmth & dimension to the room that the bland ivory carpet never could.
With the floors installed & protected with craft paper, we can finally move on to getting some colour on the walls! As we mentioned last week, our plan for the wall behind the bed was to create a geometric feature wall by drawing inspiration from Hannah Beachler's production design of Shuri's lab in Marvel's Black Panther movie. How insane is this floor!? <3 [caption id="" align="alignnone" width="815"]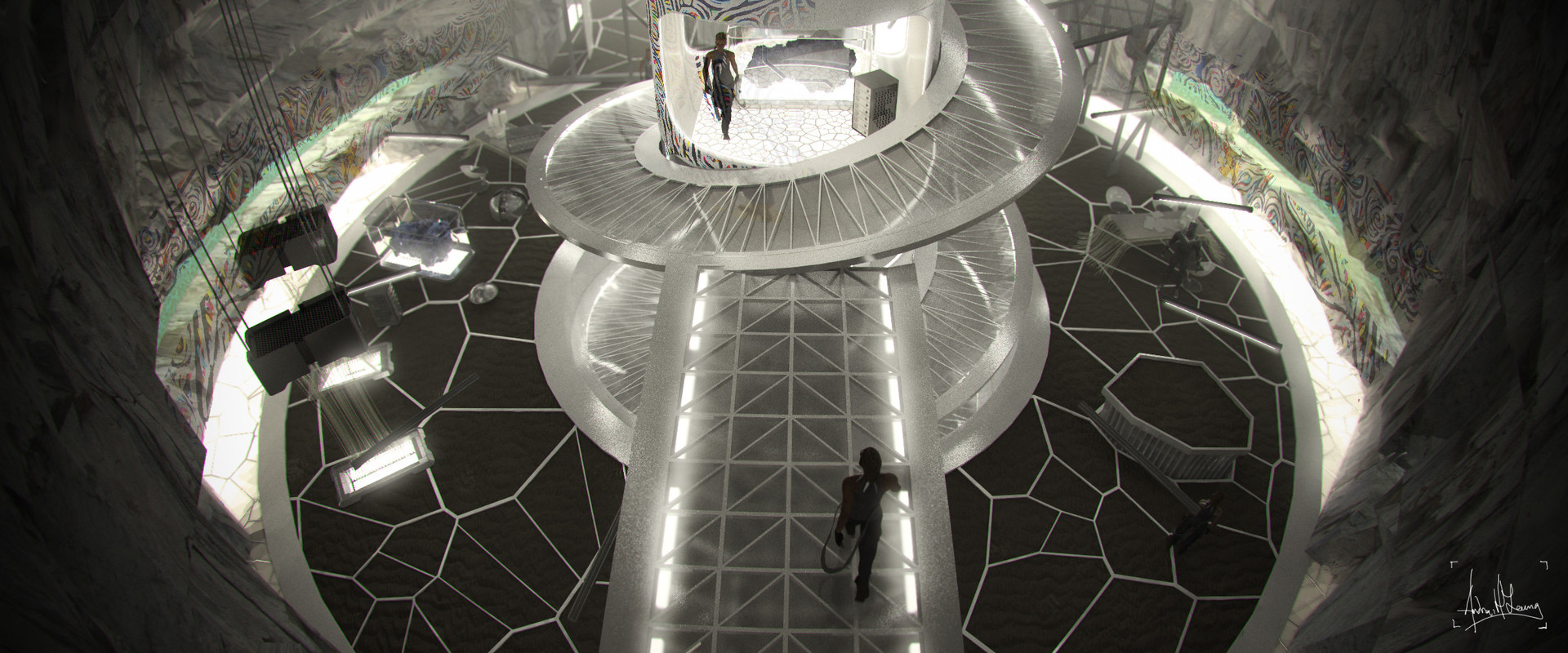 Black Panther Shuri's Lab WDG Illustration by Drew Leung via ArtStation[/caption]
The colour
To start with, we knew we wanted the feature wall to be grey. We're fortunate to be working with PARA Paints again on this project and chose Philosophical (412E) from the Color Journeys collection. When you're going through a million tiny paint swatches & trying to match up tones with the other elements in a space it's sometimes a bit hard to tell if you've got it right. There's always that little bit of anxiety before we get the colour up on the wall about whether or not we've made the right choice. This time though, we absolutely nailed it!! This colour couldn't have turned out more perfect!
And can we just pause for a second to talk about how fantastic the coverage is with PARA….seriously… the photo above is after just one coat of paint and it was already pretty close to perfection.
We're seriously in love with this colour!
Creating the pattern
Using scaled measurements of the bedroom wall, we took to Illustrator to come up with a somewhat abstract geometric pattern that we liked.
Once we were happy with the look of it, we took the pattern & overlaid it on a photo of the room to get a better feel for it in context. This also allowed us to be aware of any boards we would need to adjust the placement of for electrical outlets, etc…
We've partnered with Metrie to help us bring our vision to life using their 3″ flat stock MDF which we've be painted in the same colour.
We're pretty excited to get the stock up on the wall to really be able to see it all come together – but that will have to wait just a little while longer. Before we install the boards, our friends at Kichler will be helping us add a little something special to really take this wall to the next level! We don't want to spoil the surprise, so we'll just leave it at that for now.
Before we go, let's check in with that nagging to-do list:
"Modern Marvel" Boy's Bedroom To-Do List:
tear out carpet
install hardwood floors
paint (in progress)
replace bed & dresser (new items delivered waiting to be assembled)
create geometric feature wall behind bed (in progress)
replace doors & trim
choose new light fixtures
install new lighting
figure out window treatments
sew roman blinds
sew throw pillow covers
build desk with storage & reading nook
build wall shelves (in-progress)
new bedding (purchased)
accessorize
It feels pretty good to see so many things either crossed off the list or started already. Building the desk is a big one though, so we definitely still have lots to do. Hopefully we can keep things on track over the next week. Keep your fingers crossed for us!
Don't forget to check out what the rest of the ORC featured designer & guest participants have been up to this week.
Bye for now, friends!